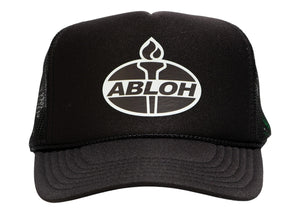 Virgil Abloh Black and Purple Torch Trucker Hat - Figures of Speech | Brooklyn Museum Art Exhibition
Black Virgil Abloh torch hat from the "Figures of Speech" exhibition at Brooklyn Museum. The hat features Abloh printed on the front reminiscent of the Amoco oil company which was also popularized in Pop Art by Andy Warhol in the 80's during his painting collaborations with Jean-Michel Basquiat.
The trucker hat features the signature neon green tag prevalent with Off White. The tag visible through the mesh part of the hat says "Abloh".