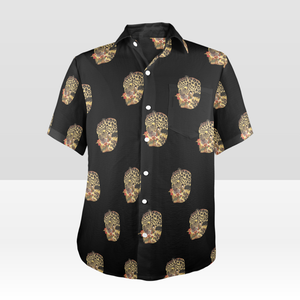 Leopard Eating Rooster Button Down Crinkle Shirt with Pocket
Lightweight crinkle shirt featuring an all over print of an illustrated Leopard eating a rooster. 
"The Tiger of Ryokoku" a leopard eating a rooster. From the Japanese woodblock art print from the 1800's. The original artwork referred to this being a tiger due to the local people at the time were not familiar with leopards as a species and thought they were female tigers that happened to be spotted.

100% Polyester