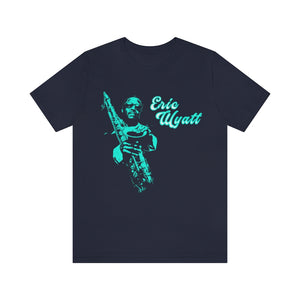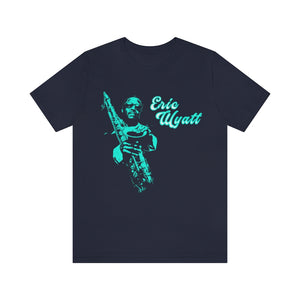 Eric Wyatt T-Shirt - Jazz Musician with Saxophone - Aqua Silhouette | Brooklyn Native
Eric Wyatt is an internationally known jazz saxophonist and composer, born and raised in Brownsville Brooklyn. Being a part of the New York jazz scene for many years, the list of musicians Wyatt has played with and influenced reads like a who's who of jazz. The son of Charles Wyatt, also saxophonist and close friend of the legendary Sonny Rollins who who became his godfather and mentor.
Wyatt has an extensive catalog of music including his latest effort entitled "The Golden Rule: For Sonny", an album honoring some of Sonny Rollins' compositions. In addition the album honors the late musicians Roy Hargrove and Arthur Rhames, both who were close peers and highly influential on Wyatt's musicianship. Many of the musicians playing on the album have played with Rollins as well as the late artists Hargrove and Rhames. Bob Albert, founder of The Culture Ref, documented the making of the album in the studio in a short documentary on video. The Culture Ref is happy to design this original t-shirt in collaboration with Eric Wyatt and available exclusively here.