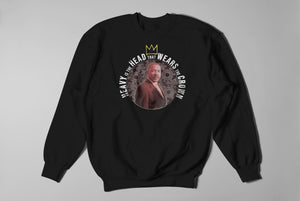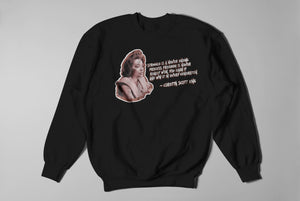 Matching Dr. Martin Luther King Jr and Coretta Scott King Inspirational Crewneck Sweatshirts - For Couples | Black History Icons MLK | Civil Rights Leader
Matching couple sweatshirts with the iconic humanitarian and activist power couple Dr. Martin Luther King Jr. and Coretta Scott King. The Coretta Scott King shirt reads: Struggle is a never ending process. Freedom is never really won, you earn it and win it in every generation.
The Dr. Martin Luther King Jr. shirt features a well known statement taken from Shakespeare's play Henry IV, "Heavy is the Head That Wears The Crown". An inspirational saying putting into context the burden that lies upon someone taking on the task of being a leader. Dr. King is one of the greatest examples of this quote, inspiring a nation of people with his sacrifice to be a leader for the greater of humanity. The design incorporates the three point crown originating from artist Jean-Michel Basquiat. Perfect for a husband and wife, boyfriend and girlfriend couple. Great for Black History Month.